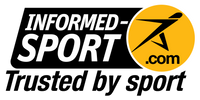 BEET IT Trusted by Elite Athletes & Sports Professionals Worldwide
Informed Sport is a quality assurance programme for sports nutrition products, suppliers to the sports nutrition industry, and supplement manufacturing facilities.
The programme certifies that all nutritional supplements and/or ingredients that bear the Informed-Sport logo have been tested for banned substances by the world class sports anti-doping lab, LGC. Athletes choosing to use supplements can use the search function on the Informed Sport Website to find products that have been through this rigorous certification process.
Beet It Sport Pro-Elite Shot